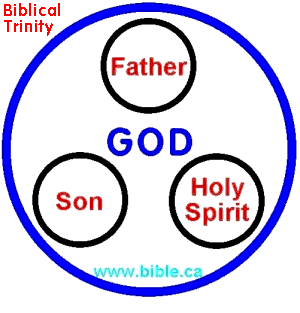 Stop reading right now if you don't want to risk the fires of hell . . .
Still with me? You are brave!
So, who has heard of the trinity? Raise you hands. Ok, that's most of you. Did you also know that the word 'trinity' doesn't show up anywhere in the Bible? The word was invented by one of the early leaders of the church to help describe how Jesus can be God and the Holy Spirit can be God and the Father can be God, but there's only one God.
Not much heresy yet, but hold on. I'm in class right now learning about the gospel of John. It starts off talking about how the Word and God are one in the same and Jesus is the Word. It pretty clearly states that Jesus=Word=God, but the next thing that a good, orthodox trinitarian will point out is that the Son is a different person of the trinity from the Father.
Here's where I might be a little bit of a heretic: I'm not sure that I can affirm the separate personhood for each member of the trinity. That would make me a modalist or sabellian in some form (and they are all heretics in the classic sense). That means that I see Jesus incarnation as an expression of God and the Holy Spirit as a mode in which God acts, but that there is not necessarily a distinctive person at work in each of these cases.
The main argument against modalism is that Jesus died on the cross, yet the world did not cease to be. How could God be dead and in the grave and still continue to act to raise Jesus from the dead? My response to this: what's the big deal? If God created the world with a Word, then how is it hard for us to accept that he can be dead? Is this any more difficult to accept than a convoluted explanation of God being three-persons with one essence?
What I like about modalism is that it allows a much easier identification of God's presence and activity in the Old Testament. The Spirit of the LORD hovers over the waters in Genesis. The Angel (messenger, or word-bearer) of the LORD speaks to his people. We see that God has always interacted with his people in the manner that is best for his people.
Who wants to be a heretic with me?